STORE
You can order our products that we use for our events by sending an email to info@sensunique.nu. If you have any questions regarding our products, please let us know. A selection of our extensive range:
Our vaporizers are available online. Use the button below to order now.
Sensi Soda
Sensi Soda is made from pure Dutch, fresh and sparkling water that we infused with Blackberry terpenes. It contains naturally filtered and carbonized Dutch dune water and fully plant-derived terpenes. Sensi Soda is 100% organic and vegan, without any added sugar, artificial essences, colorants or flavorings. Sensi Soda - Blackberry tastes like brambles and lavender with a touch of ginger and lemongrass. €2.50/bottle 250 ml
Cannabis Beer
We greatly value the indication of origin on our wines. So we naturally also value knowing the origin of our cannabis. Quality is key. Our recently brewed Cannabis Beer is our crown jewel. The hops and cannabis are perfectly balanced. Cheers! 5,6% Vol.  THC <0,2%  Vol.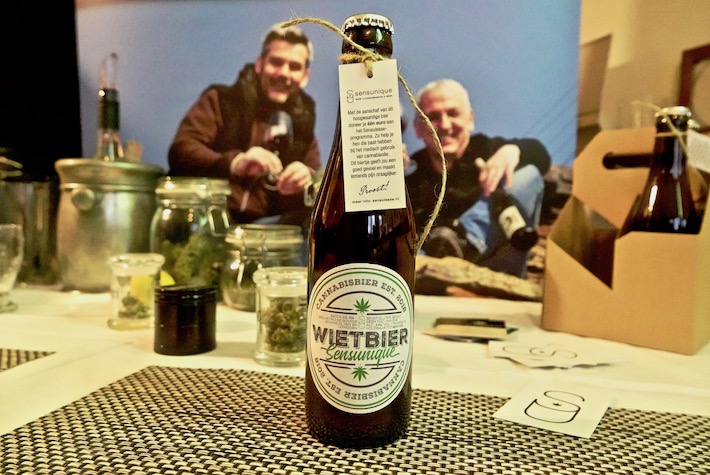 Cuvee Noir
The German version of 'Rioja'. A blend of Regent, Dornfelder and Portugieser. An intense color and vigorous taste while still elegant. A high-level wine that everyone will love. 12.5 % Vol.
Unplugged
100 % Pinot Noir from a slated vineyard. Spontaneous fermentation. An aroma of ripe cherries and raspberries. Lots of finesse and noble tannins. Full justice is done to fruit and terroir expressions.
Wood ripening in used oak barrels. The long aftertaste climaxes with clear mineral tones. 13 % Vol.
DaVinci vaporizers belong to the highest rated vaporizers currently on the market. As an authorized reseller, we offer DaVinci's full range. The IQ and the MIQRO are the most recommended by our customers.
DAVINCI IQ
IQ TECHNOLOGY
The IQ's technology features four temperature settings for different vaporizing preferences. Each setting is indicated by a light on the side of the vaporizer, varying from one light (250°F) to four lights (430°F).
USE
Precision mode allows you to select the exact temperature. The lights indicate the selected temperature. The IQ vibrates once it has reached the desired temperature.
Boost mode is activated by pressing and holding the control button. Once you release the button, the IQ will go into stand-by mode. In stand-by mode, the DaVinci cools down, so your cannabis or other herb will be preserved in good condition. The lights on the IQ are dimmable for discrete use.
APP INTEGRATION
Using the Bluetooth app (available for Android and iOS), you can easily control and read out the DaVinci IQ. You can create a profile using the smartphone app, to personalize the IQ.
Dimensions and specifications:
Dimensions: 1.65" x 3.54" x 0.94"
Weight: 145 g
Rechargable/replacable 18650 battery
Charging time: approximately 3 hours.
The DaVinci IQ vaporizer includes:
1 Micro USB cable
1 Keychain tool
1 Chimney brush
9 Cleaning wipes
1 Water pipe adapter/mouthpiece
1 Carry can
1 3500mAh – 18650 Battery
1 User manual
€249,95
For more information and reservations, please contact us using the below contact form.

sensunique is powered by: